What's Coming up at Talland in May/ June  2023?
Dates for your diary
We have some exciting events coming up this May. See below for details and on how to book in.
BHS Ride Safe Silver Challenge Award 
This is a co requisite for the BHS Stage 1 Ride and Care, which are stepping stones onto the BHS complete Horsemanship Pathway.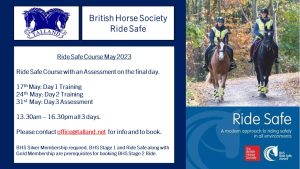 Pippa El Derby Demo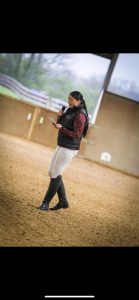 Friday 26th May 2023 at Talland School of Equitation.
⭐️ Something for everyone! ⭐️
The starting of a young horse with Robbie McNeill. Exercises for the happy hacker and competition riders. Positional exercises. Top tips for test riding. Exercises you can do even without an arena. Small Tour Freestyle, and much much more!
⭐️Hot and cold food & drinks in our cafe⭐️
⭐️ Shopping – Eqclusive Ocean Blue Equine Omega Equine ⭐️
Tickets available via My Riding Life: https://www.myridinglife.com/eventdetails.aspx?id=420614&fbclid=IwAR0pxH9hFATNhhJC7CYiPNrpo5A8bo-1Motr0mgBFuR7ch1-QLf_RkxqWI8
Unaffiliated Dressage Competition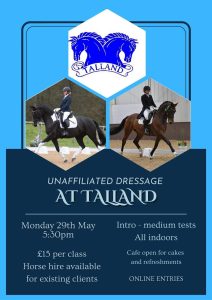 Monday 29th May commencing at 5.30pm. Details and
Entries online via My Riding Life: https://www.myridinglife.com/eventdetails.aspx?id=255178&fbclid=IwAR2_7S-wyjxqX3X9NCKgrNRmDSbni_WRtJ1ot7G5nj3eHfGbITsqBaKkN5U
Horse hire available to existing clients. Please contact office@talland.net to discuss and book. Additional fees apply. Closing date for entries is Wednesday 24 May 2023.
Children's Day Course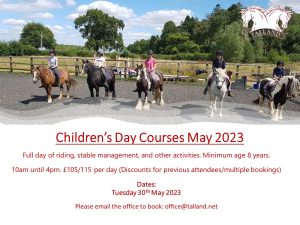 Our popular children's day course will be running on Tuesday 30th May 2023.
Contact office@talland.net to book a slot.
Test Riding Day with Pippa El Derby – 24th July.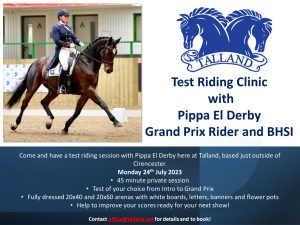 CONTACT THE OFFICE TO BOOK IN.
These events are running alongside our usual busy schedule of lessons, exam training courses, and more so please do get in touch if you can't see what you are looking for.