The Talland School of Equitation is a family run Riding Centre, we offer lessons to everyone from beginner to advanced! Top class training available along with Riding Holidays, Intensive Courses and much more!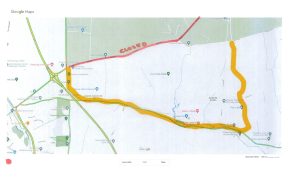 ROAD CLOSED B4425 – DIVERSION
*Click on map to view full size
The road from Hunters/ Fosse Traffic Lights to Barnsley is closed from Monday 30th to Friday 3rd Feb between 9.30 – 15.30
The official diversion takes you miles!!! So please use the below –
Turn right at Hunters,
at the end of the road – turn left – onto A417 – towards Fairford
Just past the Crown at Ampney Brook ( opposite the church)
Turn left
Follow the lane – past the village and keep going until the cross roads.
At the Crossroads Turn left – back towards Cirencester
Talland should be 200 yards on your right!
THIS ISNT SUITABLE FOR LORRIES – PLEASE EMAIL FOR DIRECTIONS.
To make a booking or to find out more please call us on +44 (0)1285 740155.
Policy Information:
If you wish to find out more about Talland Policies relating to Safeguarding and Equal Opportunities etc. Please email in the First instance to; secretary@talland.net
Principal: Pamela Hutton FBHS, The Talland School of Equitation, Dairy Farm Ampney Knowle, Cirencester, Glos GL7 5FD.
Riding School Licence Authority: Cotswold District Council. C/21/00764/ANIMAL.
Licence holders Mr WB, Mrs PN Hutton & Miss PJ Hutton.